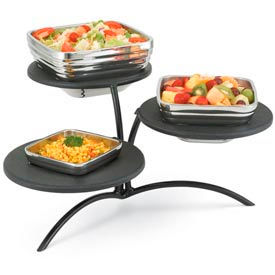 Vollrath® Elevation Stands
Vollrath® Elevation Stands Add Service Space To Your Buffet While Creating Visual Appeal.

Buffet elevation stands are made from durable heavy duty wire with black semi-gloss finish. Adaptor plates allow usage of a variety of bowl shapes and sizes for versatility in food presentation. Each ring has a 9 inside diameter. Locator tab properly positions adaptor plate for a secure fit. Available in staggered or ladder styles. Lifetime Limited Warranty.