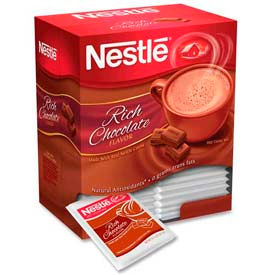 Hot Chocolate & Cocoa Mixes
Hot Chocolate And Cocoa Mixes Accommodate Applications Including Retail, Food Service, Hospitality and more.

Hot chocolate and cocoa mixes are made of natural ingredients for long lasting quality. Units accommodate breakrooms, cafeterias, concession stands and more. Available Flavors are Chocolate, Dutch Chocolate, Milk Chocolate, Rich Chocolate, and more. Package quantities are 24 and 300. Brands and dimensions vary per model.Products are non-returnable. Compact design for ease of storage in large quantities. Package quantities, brands, and additional specifications vary per model.