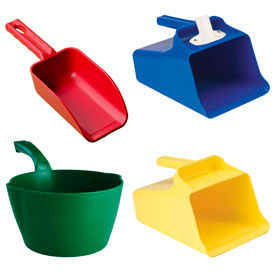 Food Handling Scoops
Food Handling Scoops Allow Convenient and Hygienic Food Handling for Food Service Environments, Ice Machines, Concession Stands, and more.

With these rugged, colorful scoops you can get a better grip on your food processing jobs. Made from thick-walled, fully color-coded polypropylene, these scoops are made from FDA-compliant materials and are chemical resistant. Scoops are molded in one piece, so there are no seams or cracks for bacterial growth. Each unit is suitable for preventing bacterial and allergen cross-contamination. Additional specifications vary per model.