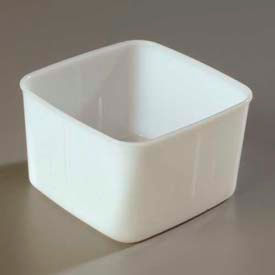 Carlisle StorPlus™ Containers
Plastic Food Storage Containers Are Used For Restaurants, Cafeterias, Coolers And Other Food Preparation And Storage Applications.

Plastic Food Storage Containers are made of durable Polycarbonate and Polyethylene materials for long lasting use and dependability. Round, Square or Rectangular types with reinforced designs and rounded corners that add strength and help prevent chipping and cracking. Allow for flexible, practical food storage in the refrigerator, freezer, cooler or on shelves. Available in wide range of 4.8 to 26 inch lengths, 5.69 to 26-7/8 inch widths, 3-1/5 to 24-3/4 inch heights and 1 to 22 quart or 2 to 21-1/2 gallon capacities. Matching Lids on most models available separately.