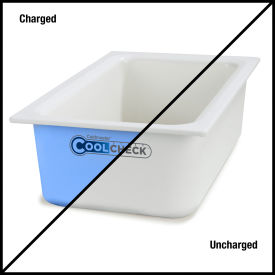 Coldmaster® CoolCheck Food Pans
Coldmaster® CoolCheck Food Pans Maintain Food Temperature For Catering, Restaurants, Cafeterias And More.

Coldmaster® CoolCheck food pans are made of abs plastic for long lasting durability and dependability. Charged pans hold food temperatures at or below 40°F (4.4°C) for up to four hours. Clear polycarbonate lids preserve freshness and prevent spillage. Eliminates unsanitary ice baths. Quart capacities range from 1 to 15. Shapes include Oval and Square. Available colors are Black, Black/Champagne, Black/Charcoal, Black/Pewter, White, White/Blue, White/Champagne, White Charcoal and more. NSF listed. Dimensions vary per model.