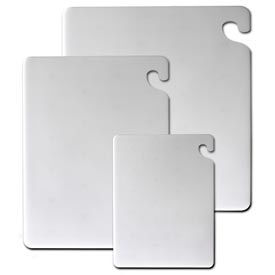 Plastic Cutting Boards
Cutting Boards Are Used For Use In Restaurants, Cafeterias And Other Foodservice Handling And Preparation Applications.

Cutting Boards are made of high density polyethylene construction for long lasting durability and dependability. Availble styles include Saf T Grip, Color Cutting Board Pack, Cut-N-Carry® 4- or 6-board system, Board Mat, Grooved Cutting Board and more. Cutting boards help prevent cross contamination. Food safety hook ensures sanitary carrying to prevent body or apparel contact. Tough surface won't dull knives and prevents unsafe cut-grooving that can collect dirt and bacteria. Available colors are Black, Brown, Purple, White, Tan, Blue, Red, Yellow or Assorted. Dimensions vary per model.