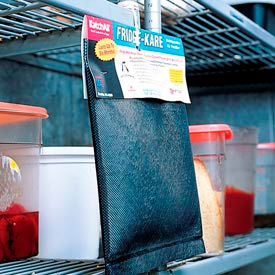 San Jamar® Fridge-Kare®
San Jamar® Fridge-Kare® Removes Refrigeration Moisture For Applications Including Food Industry, Hospitality And More.

San Jamar® Fridge-Kare® is made of high quality materials for long lasting durability and dependability. Units remove moisture from coolers decreasing bacteria and mold growth, extending perishable shelf life and reducing food odor transfer. Improves energy efficiency by lowering relative dew point reducing cooling source energy use. All natural, non-toxic and 100% biodegradable. No preparation or power required. Capacity is 250'.