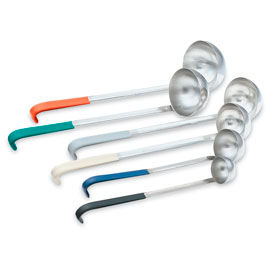 Stainless Steel Ladles
Stainless Steel Ladles Are Foodservice Handling Implements Used For Pouring And Stirring Soups, Sauces And Other Liquids.

Stainless Steel Ladles are made for long lasting use, durability and dependability. Various recognized brands offer wide selection of Single or 2-Piece type ladles used for cooking and serving soups, sauces and other liquids. Most feature hooked handle to prevent sliding and for easy storage. Some include comfort grip heat resistant color coated handle. Available in wide range of 1/2 to 72 oz. capacities and 1-3/4 to 33 inch lengths.