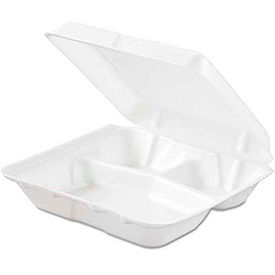 Hinged Lid Carryout Containers
Hinged Lid Carryout Containers Are Suitable For Restaurants, Cafes, and Various Outdoor Dining Settings.

Hinged Lid Carryout Containers provide high-insulation temporary container storage to keep food hot or cold. Carry-out containers feature a secure closure and hinged lids that help minimize spills and lock in heat. These insulated containers also reduce heat and cold transfer to the user's hands. Available Types are Hot Dog Container, Sandwich Container, Clamshell Container, and more.Containers with perforated hinged lids allow you to easily remove the lid. Dimensions and additional specifications vary per model.