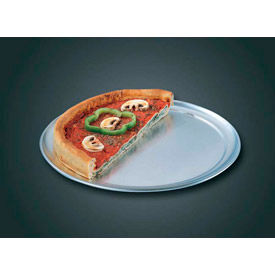 Pizza Pan - Wide Rim
Pizza Pans - Wide Rims Are Used For Restaurants And Other Commercial Cooking Applications.

Pizza Pans - Wide Rims are made of heavy duty 14 and 18 gauge aluminum for long lasting durability. Thickness of pan allows even heat distribution for optimum performance. Types are Continental Rim Tray, Decorative Tray, Flat Rim Tray, Perforated, Pizza Pan, Serving Tray, Pizza Tray Coupe, Serving, Slider and Sloped Rim Trays. Pan diameters are 6" to 29".