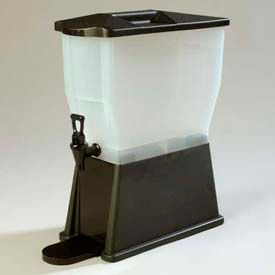 Carlisle Premium Beverage Servers
Carlisle Premium Beverage Dispensers Are Used For Storing And Serving Chilled Beverages.

Carlisle Premium Beverage Dispensers are crafted for sanitary, efficient functioning and long lasting durability. The TrimLin™ Premium Single Base features a sleek rectangular design that saves valuable counter space. With a textured lid and base, the reservoir has ergonomic handles for a secure grip. The Removable Drip Tray prevents spills and saves on clean-up time. The EconoMALAYSIA has an economical spring action faucet. All BPA free containers include labels for Fruit Punch, Iced Tea, Lemonade, Sweetened Tea and Unsweetened Tea. Available in widths of 8" and 15.75".