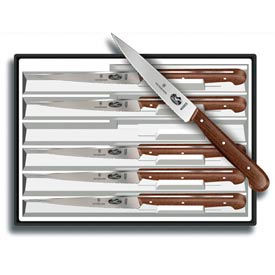 Victorinox® Steak Knives
Steak Knives Cut Easily Through Any Meat.

Stamped blades are cut from a cold rolled piece of steel and then ground, tempered and sharpened. Available stamped blade handles are Rosewood, Plastic Over Molded and Polypropylene in various colors.
Forged blades are extremely durable, made by heating steel to a high temperature and hammered into shape. Forged blade steak knives feature Plastic Over Molded Handles. Steak knife sets feature six knives, and are available with Rosewood, Polypropylene and Plastic Over Molded handles. Round or spear tips are available. Steak knives are sold individually or in sets.