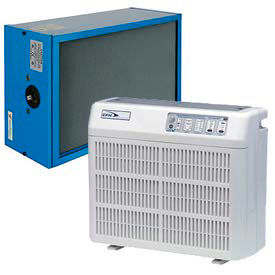 Complete Air Purification Systems
Air Purifiers Help Prevent Illness, Reduce Fatigue And Headaches, And Decrease Dust And Cleaning Requirements.

These purifiers use photo-catalytic titanium oxidation to clear the air of dust and allergens and help keep you healthy and comfortable. UVC lights activate a highly reactive and patented titanium dioxide catalyst that destroys toxic compounds by converting them into benign constituents such as water and carbon dioxide. Computerized control interface makes using these purifiers easy. Built-in service light tells you when it's time to change the filter. Portable Purifier uses electronic sensors that constantly monitor air quality and automatically increase air performance to compensate for periods of high particle activity. Whole House Air Purifier is able to handle large volumes for air purification; including small homes. This air purifier is designed to work in conjunction with a home's HVAC system; not a stand-alone unit. 2 Year Limited Warranty.