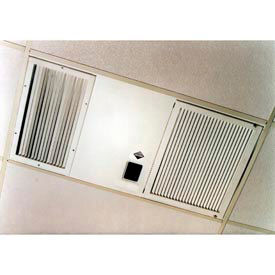 Lafc Series Commercial HEPA & Media Air Purifiers
Lafc Series HEPA and Media Air Purifiers Are In Ceiling Air Purifiers Used For Use In Small Offices, Office Complexes, Bars And Labs.

Lafc Series HEPA and Media Air Purifiers discreetly provides the best in air cleaning with contemporary styling and versatility. Centrifugal blowers allow 2 distinct cleaning modes for quiet and efficient operation. Includes aluminum pre-filter and carbon after filter. Hinged intake panel allows easy access to internal components for cleaning and maintenance. Louvered intake panel and louvered clean air delivery panel allow for variable yet smooth air flow. Measures 47-3/4 L x 23-3/4 W x 11 H overall. Choose between Black or White housing. Media Filter removes 98% of airborne particles as small as 5 microns. HEPA Filter offers 99.97% particle removal as small as 0.3 microns.