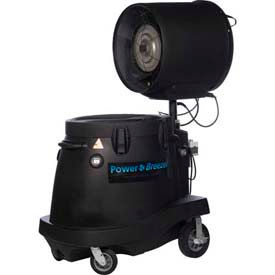 Mobile Cooling Devices
Industrial-Grade Portable Cooling Device is used in Warehouses, Loading Docks, Hangers, Schools, Construction Sites, Sports Facilities and More.

Industrial Grade Portable Cooling Device provides consistent, targeted cooling covering up to 3000 square feet. Used for partially-covered or outdoor areas, it can deliver temperature reduction up to 27 degrees. Industrial Grade fans have rugged polycarbonate housing for long lasting durability in repeated or outdoor use. Oscillating head increases coverage area. User-controlled fan and moisture level allows fine-tuning. 50 hours constant run time. Unique delivery system recirculates water and inhibits mold. Safe and economical. Moves easily on 4 heavy-duty casters. Fan diameter is 24". CFM highs are 7,000 and 14,000. Cooling coverages are 1500 and 3000 square feet. 1 and 3/4 HP. OSHA compliant, ETL, NOM, CE certified. Made in the USA by Veterans.