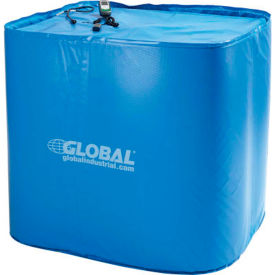 Powerblanket® Tote Heaters
Powerblanket® Tote Heaters Efficiently and Safely Heat Temperature Sensitive Materials.

Powerblanket® Tote Heaters have a heating element within the blanket that allows for more surface area contact, conserving energy and greatly reducing hot and cold spots. For safe, consistent heat for paints, roofing materials, chemicals, epoxies, resins, equipment, and pallets of any material. The advanced insulation prevents heat loss and will protect down to -40°F/-40°C. Units provide efficient plastic or metal drum heating. Insulated full-wrap design delivers heat uniformity and adjustability for content stability. Units maintain temperature for waste prevention without scorching or burning. Thermostatic shutdown prevents overheating. Includes removable top for ergonomic operator access. Gallon capacities range from 250 to 550. For use with Diesel Exhaust Fluid Tote, IBC Steel Tote, and IBC Tote. Colors are Black and Gray. ETL, UL, CSA, and CE approved. Dimensions vary per model.