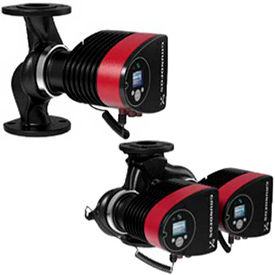 Grundfos MAGNA 3 Circulator Pumps
Grundfos MAGNA 3 Circulator Pumps Are Extremely Flexible And Reliable with Low Noise Levels.

Grundfos MAGNA 3 Circulator Pumps are made with cast iron or stainless steel to provide long life and no maintenance requirements. MAGNA3/UPE pumps are small, medium and large circulator pumps fitted with communication equipment and motors with electronic speed control based on permanent magnet (PM) and compact stator motor technology. Easy installation. Factory settings embedded. Automatically analyzes heating system and continuously adjusts to changes in demand to provide optimum comfort and minimum energy consumption. Pumps are fitted with IR communication for external control and monitoring via expansion modules. Dimensions, voltage and port-to-port lengths vary per model.