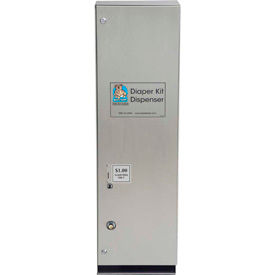 Koala Kare Diaper Dispenser
Koala Kare Stainless Steel Diaper Dispenser Is Ideal For Use With Koala Kare Baby Changing Tables.

The Stainless Steel Diaper Dispenser is made with 18 -gauge, type 304 satin-finish stainless steel. The shelves of the Diaper Dispenser are easily reset for loading by running the index finger up the right side of the shelves until they lock in place. The top shelf has an automatic empty device that will cause the coin mechanism to reject all coins when the dispenser is empty.