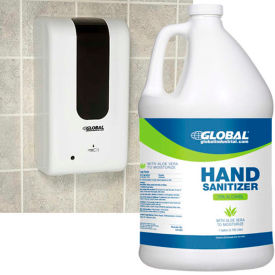 Global Industrial™ Hand Sanitizer Starter Kits
Automatic Hand Sanitizer Dispenser Starter Kits Allow For Quick Sanitizer Setup In Offices, Hospitals, Classrooms, And Other High Volume Facilities.

Available in two kits to help meet any requirements. The hands-free dispenser features an external on/off switch, a tamper-resistant lock system for added safety, and a key to allow convenient access for assigned personnel. Holds up to 1200ml of hand sanitizer inside a solid case of durable ABS plastic for lasting use. Includes a case of 4 x gallon bottles of gel hand sanitizer.