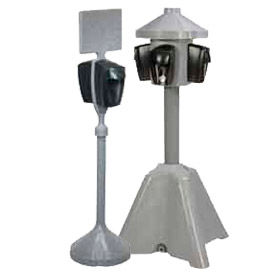 PolyJohn® Portable Hand Sanitizing Stands & Stations
PolyJohn® Portable Hand Sanitizing Stands & Stations Provide A Convenient Way To Keep Hands Clean When Water Is Not Available.

Hand sanitizing stations can be used alongside portable restrooms. Used for use at construction sites, agricultural work sites, food service areas & events, festivals, petting zoos, farmers markets, amusement parks and more. Stands are made of corrosion resistant polyethylene for long lasting use. Base can be weighted with water or sand for secure deployment in high traffic areas. Knocks down for easy storage. Hand Sanitizing Stations include 4 foam hand sanitizers. Available with an ADA-compliant design with 2 of the dispensers at an easily accessible height. Hand sanitizer dispensers include Alcohol-Free Antiseptic Foam that kills 99% of germs on hands, including E. coli and salmonella. Features a locking canopy to protect supplies. Hand Sanitizing Stands feature a slim profile and granite finish, making it suitable for display in a variety of environments.