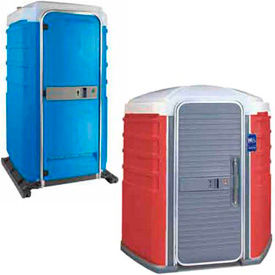 PolyJohn® Portable Restrooms
PolyJohn® Portable Restrooms Are Made Of Durable, Corrosion Resistant Polyethylene, And Offer A Spacious Design For Comfortable Use For Construction Sites, Outdoor Events And Remote Locations.

Fleet™ Portable Restrooms offer 24% more interior floor space, 1,059 sq. in. total, than other units in its class, improving comfort for construction workers with bulky tool belts, or parents with small children.

PJN3™ Portable Restrooms are easy to service and clean, with reduced time for pumping and wipe downs. Features an advanced waste tank design with rounded slope top, and conveniently placed deep central slump.

We'll Care™ Portable Restrooms are design-certified to meet and exceed ADA requirements. The large interior allows wheelchairs to turn 360 degrees, providing maximum comfort.

Comfort Inn™ Wheelchair Accessible Portable Restrooms offer a roomy interior that permits greater movement and a ground level design that is suitable for special needs users who require wheelchair access. Can be easily moved by one person.