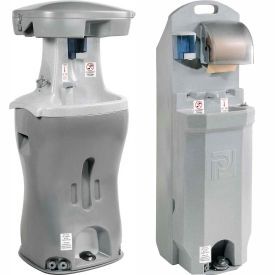 PolyJohn® Portable Hand Wash Stations
PolyJohn® Portable Hand Wash Stations Provide Convenient, Hygienic Stations Where They're Needed.

Portable hand wash stations are a great companion to Portable Toilets (sold separately). Durable plastic resin construction is corrosion resistant and used for both indoor and outdoor applications. Utilizes foot-pump operation that dispenses 2 fluid ounces per stroke to limit water usage; 128 fluid ounces per gallon. The average person only requires 3 pumps of water per hand wash. Built-in water tanks help supply fresh water for hand wash use and store used water for disposal. Hand washing stations offer a multi-sink and dispenser system to accommodate multiple users at once. Built-in lift handles for easy portability. All Models, except Applause™ units, easily fit inside portable restrooms for easy transport. Bravo!™ Stations include four 250-sheet paper towel dispensers and two 30-fl. Oz. soap dispensers. Siphon port allows easy pump-out of used water. Applause™ Stations are great for large job sites. Allows 2 stations to be placed back-to-back to create a large 4-sink station. FDA food-grade compliant.