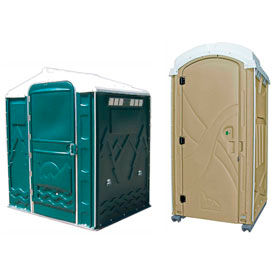 PolyPortables Portable Restrooms
PolyPortables Portable Restrooms Are Used For Applications Including Maintenance, Construction, Outdoor Venue, And More.

PolyPortables portable restrooms are made of plastic for long lasting durability and dependability. Units provide ergonomic restroom mobility for outdoor and large capacity environments. Thick extrusion floor provides maximum rigidity and near ground-level access for user convenience. Includes waste tank, toilet seat and cover, dual-roll toilet paper holder, heavy-duty aluminum handrails, and pneumatic door closer. Features self-closing hinges, heavy-duty rotary latches, ambidextrous door pulls, and re-engineered door frame. Modular units allow efficient repair and replacement. UV protection provides corrosion resistance. Available types include Axxis Portable Restroom, Enhanced Access Unit, and Vantage Portable Restroom. Styles are ADA, Large, and Standard. Holding tank capacities are 40 and 60 Gallons. Package quantity is 1. Colors are Blue, Gray, Green, and Tan. Dimensions vary per model.