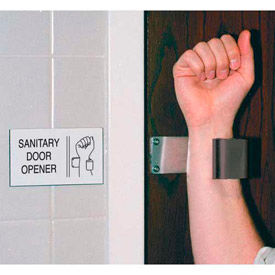 Sanitary Door Openers
Sanitary Door Openers Are Used For Restaurants, Office Buildings, Factories, Hospitals, Theaters And Other Public Areas.

Sanitary Door Openers are made of aluminum with a satin silver finish for long lasting durability. "Hands-free" openers provide pull-open, restroom exit doors, keeping freshly washed hands clean and sanitary. Door is opened using forearm or foot. Model may vary. Forearm operated openers insures arm is naturally released as door swings inward. Mounts above existing door handle using stainless steel screws (included). Forearm operators are sold in sets of two openers. Foot operated opener mounts from the bottom and outer edge of the door. Press down with foot to gain traction and pull. Foot operator is sold individually.