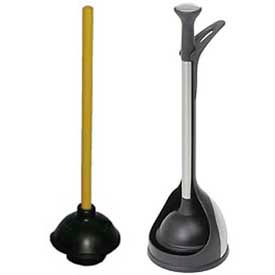 Toilet Bowl Plungers
Toilet Bowl Plungers Allow Convenient Toilet Bowl Maintenance and Drain Removal for Public and Commercial Restrooms.

These plungers are made of rubber, plastic, wood or stainless steel for long lasting durability. Available in a variety of styles to meet plunging requirements with maximum force and reliability. Various Types, Sizes, and Colors available. Handle heights vary from 17" to 25". with diameters ranging from 2-3/4" to 6-1/4".