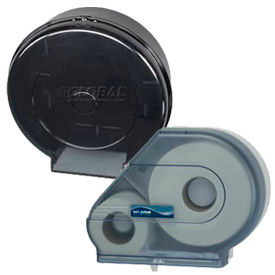 Jumbo Toilet Tissue Dispensers
Jumbo Toilet Tissue Dispensers are used for Commercial and Industrial Lavatories, Public Rest Areas and other Bathroom Locations.

Jumbo Toilet Tissue Dispensers are made of plastic, stainless steel or steel for long lasting durability and low maintenance. Dispensers are designed to provide easy paper access with multi-directional tearing and dispenses universal jumbo tissue rolls. Available in variety of styles and sizes to meet restroom requirements. Mount type is Surface Mounted. Color finishes are Black, Blue, Smoke, Smoke/Gray, Stainless and White. Quantity is 1. Dimensions vary per model.