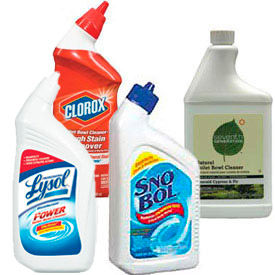 Toilet Bowl Cleaners
Toilet Bowl Cleaners Provide Convenient Maintenance and Eliminate Germs for Residential, Medical, Hospitality, and Other Similar Environments.

These cleaners are made of high quality ingredients for dependability. Cleaners eliminate mold, mildew, and other stains from sinks, toilets, urinals, and more. Deodorizers remove odor for improved air quality. Available styles include Clinging Bowl Cleaner, Deodorizer, and Urinal Cleaner. Size types range from 709 ml to 3.78 Liters. Package quantities are 4, 6, and 12/Case. Dimensions vary per model.