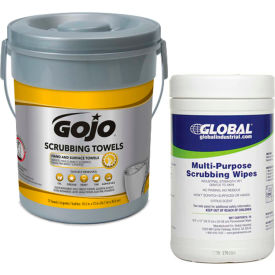 All-Purpose Cleaning Wipes
All Purpose Cleaning Wipes are conveniently presaturated with surface and hand cleaner and easily disposed of after the job is done.


Perforated or individually packaged for one at a time dispensing.
Cuts through tar, paint, lubricants, ink, adhesives & more.
Scrubbing wipes feature a scrubbing side to loosen soil and a smooth side for quick dirt absorption while conditioning hands to prevent dryness and irritation.