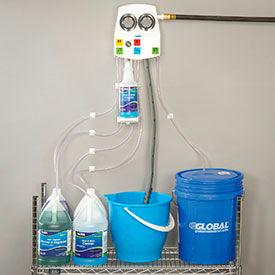 Global Industrial™ Universal Cleaning Chemical Dilution Dispensers
Global Industrial™ Universal Cleaning Chemical Dilution Dispensers are Safe to use, Cost-Effective and Environmentally Friendly. These Universal Cleaning Chemical Dilution Dispensers are available in
Low Flow, High Flow and Dual Flow
configurations.
Compact size; smaller than most systems on the market
Simple push button operation with twist-lock continuous filling feature
Can be used with any cleaning chemical concentrate
User-friendly patented dilution dial can set 13 unique dilution ratios (2:1-230:1 low flow, 6:1-570:1 high flow)
Comes equipped with ASSE 1055 approved e-gap eductor backflow prevention.* Optional ASSE 1055 approved air gap backflow prevention assemblies available (Global Models #670323 - low flow & #670324 - high flow).
Global Industrial Limited Two Year Warranty
*Please follow correct installation and dilution ratios and observe local water regulations regarding backflow prevention.