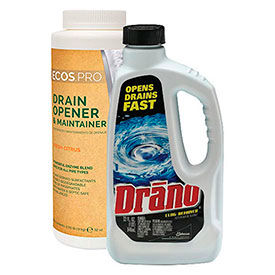 Drain Openers
Drain Openers Use Powerful Chemical Compounds to Eliminate Debris from Clogged Drains in Janitorial, Residential, Plumbing, and Other Similar Environments.


Acidic formulas perform well against solid food and paper clogs.
Alkaline formulas power through hair and soap scum based obstructions.
Solvent forumals dissolve fats, grease and oil that can deposit and create blockages on drain walls over time.