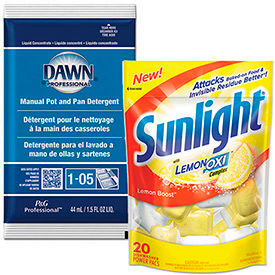 Kitchen Cleaner & Detergent Portion Packs
Kitchen Cleaners & Detergent Portion Packs remove stuck on food from pots, pans, dishes and glassware in a convenient pre-measured concentrated pack.


Ultra-concentrated formulas tremendous freight and storage savings.
Pre-portioned individual packaging eliminates dilution ratio guesswork and has no moving parts or plumbing to break down.
Can be used in dishwashers and 3-sink food service cleaning operations.