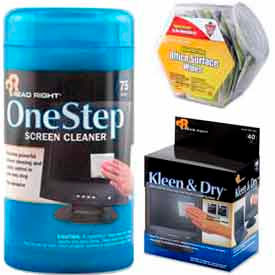 Office Cleaning Wipes & Cloths
Office Cleaning Wipes & Cloths Allow Convenient Surface and Equipment Maintenance for Offices, Schools, Corporate, and Other Related Areas.

Reduce the spread of germs in shared work areas and equipment with disinfecting cleaning wipes. Disinfecting and Multi-purpose wipes, kits, and cloths can be applied topically to any hard exteriors such as desks and phones to sensitive surfaces like electronic screens and mobile devices. Cleaning wipes for anti-static needs, screen cleaners, antibacterial wipes and swabs, dry cloths, and cleaning kits are available for all office cleaning needs.