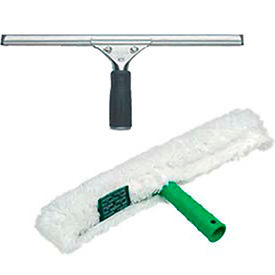 Window Squeegees & Washers
Window Squeegees and Washers Consistently Clean and Shine Glass Surfaces.

Window Squeegees & Washers clean glass without residue, streaks and droplets.Strip Washers loosen dust, dirt and grime and prepare the surface for proper squeegee operation.Combo washer/squeegee tools available to perform both wash and squeegee glass surfaces without having to change the tool. Shower squeegees dry tile and glass doors, inhibiting the growth of mold and mildew. Types include Shower, Straight Floor, Strip Washer, Strip Washer/Squeegee Combo, Window Cleaning Kit, and Window Squeegee. Cleaning widths range from 6" to 22".