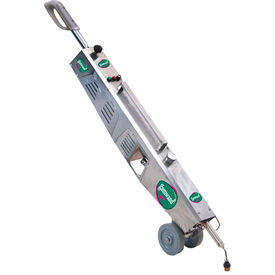 Gumwand Gum Removing Machine
Gumwand Gum Removing Machine Removes Gum and Stains in Seconds.

Gum Removing Machine contains a small LPG canister, a built in reservoir for the cleaning solution, a rechargeable battery and a pump to deliver superior cleaning power. Machine combines natural chemical, steam, and slight agitation with either brass or nylon brush to completely remove the gum and stain in seconds. Unit is portable and lightweight. Nylon brush (sold separately) available for indoor use on carpets and tiles, which is perfect for pubs, clubs, cinemas, theatres, schools, and more. Brass brushes (sold separately) are used for exterior hard surfaces such as asphalt, concrete, brick, pavers, and stone, and indoor tile/grout, elevator tracks or door thresholds. 14.1oz Benzomatic Propane tank (sold separately) lasts for approximately 7-8 hours of run time . Built-in rechargeable battery and charger. Color finish is stainless steel. Sold 1 per case. 1 Year warranty.