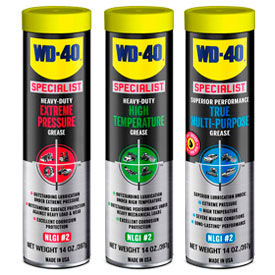 WD-40® Industrial Grease
WD-40® Industrial Grease Provides Lubrication For Applications Including Automotive, Industrial, Manufacturing, And More.

WD-40® industrial grease is made of high quality materials for dependability. Grease ensures optimal lubrication and protection against wear, heavy loads, and extreme temperature. Features anti-wear and high dropping point stability. Type is Tube. Package quantity is 10 per case. Colors are Blue, Green, and Red. Size type is 14 oz.