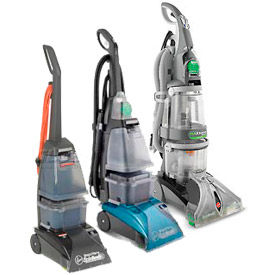 Hoover® Steamvac Carpet Vacuum Cleaners
Hoover Carpet Steam Vacuum Cleaners Provide Excellent Suction That Deep Cleans Whole Carpets And Spots.

Hoover vacuums use a powerful motor to propel scrub brushes that wash and wipe away spots and stains. Includes extra long power cords for efficient use in large rooms. Carpet steam cleaners feature a see-through 1 gallon capacity recovery tank that allows you to view the level of cleaning. Steam vacuums include cleaning detergent. 1 Year Limited Warranty.