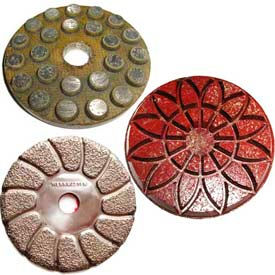 WerkMaster™ Concrete & Stone Tooling
WerkMaster™ Concrete And Stone Tooling Is Designed For Prepping, Cutting, Grinding And Polishing Various Floors And Surfaces.

Werkmaster™ Concrete And Stone Tooling is made of resin, metal or stainless steel for superior performance. Features a heavy duty construction to reduce bond wear for greater reliability. Grit and disc sizes vary per model. Vacuum Brazed Pads are designed for light grinding on concrete and terrazzo. Diamonds are brazed directly to the surface. Maybe be used wet or dry for added versatility. Metal Flex Pads And Rigid Pads have metal-bond diamond segments in a flexible rubber loop-backed disc. Excellent for a soft cut on a flat concrete, terrazzo or stone surface. Hybrid Resin Pads are made of copper and resin. Excellent on terrazzo and may be used on concrete. Great transition tool for removing tool marks from metal bond tools. Very good for cream polish.