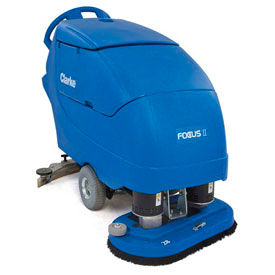 Clarke® Floor Scrubbers
Clarke® Floor Scrubbers are used in Janitorial and Maintenance Applications For Commerical Or Residential Floor Care and Scrubbing.

Clarke® Floor Scrubbers is a compact rider to clean and scrub floor areas with limited access or tight corners. Onboard charger maintains cleaning ability for large areas. Low profile scrub deck eliminates need for side skirts, and watermarks. Deck automatically moves in line with the path of the rear squeegee, resulting in 100% water pick-up. Boost allows for floor finish removal without chemicals. System uses up to 70% less solution, extends equipment pad life by 40%, and has longer battery runtimes to significantly reduce labor and maintenance time. Available styles include Upright Automatic Scrubber, Micro Scrubber, Walk Behind Compact Scrubber/Disc, Walk Behind Compact Scrubber/Boost, Walk Behind Auto Scrubber/Disc, Rider Scrubber Disc/Boost, Stand On Scrubber and more. Types include Onboard Charger or Chemical Mixing System. Cleaning widths vary from 12-1/5" - 34". Tank capacities and battery types vary per model.