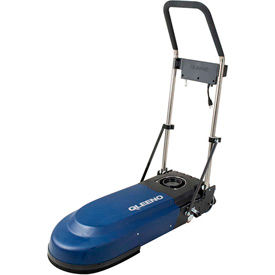 Qleeno Floor Scrubber
Qleeno Floor Scrubber QS101 Is The New Automatic Low-Profile Floor Scrubber That Will Revolutionize Cleaning.

Through its unique design, it opens up a whole new dimension of modern floor cleaning. Its patented brush head is only7-1/2" high and is therefore the lowest on the market. This makes it possible for Qleeno to clean hard to reach areas such as underneath benches, lockers, bathroom stalls, hospital beds, restaurant equipment, and store furniture where one otherwise would have to clean manually. Qleeno scrubs and dries in one sweep and moves in all directions, thereby making the users work an ease. The low-profile of Qleeno QS101 makes it very easy to transport. Just fold down the handle, roll it away like a suitcase on its built in wheels and load into the trunk of any average sized car. Accessories available (sold separately).