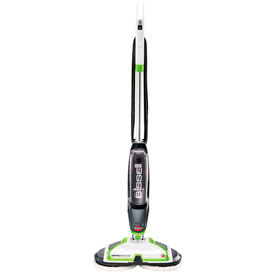 Bissell® Floor Scrubbers
Bissell® Floor Scrubbers Clean Kitchens, Dining Rooms, Bathrooms and other Small Areas, Quickly and Easily.

The Bissell Commercial Upright Floor Scrubber is a lightweight, compact, automatic floor scrubber scrubs and vacuum floors, leaving them clean and dry. It is easy to set up, use and store away. Brush speed is 1000 RPM with 15.4 lbs. of brush pressure, a 11.4"W scrub path and a 12.6"W vacuum path.
The Bissell Spinwave powered hard floor mop scrubs your floors so you don't have to! Safe for cleaning sealed, hard floors like tile, linoleum, vinyl flooring, and hardwood floors, this versatile machine comes with a set of soft touch cleaning pads for everyday cleaning and scrubby pads for tough, sticky messes.

Color finish's are White with Cha-Cha Lime Accents and Gray/Green. Dimensions are 14-1/2"L x 13-1/4"W x 44-1/2"H and 8"L x 16"W x 45"H.