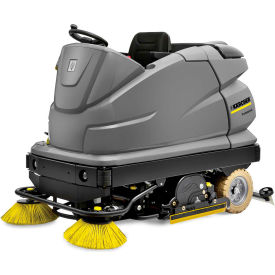 Karcher Ride On Floor Scrubbers
Karcher Ride On Floor Scrubbers Accommodate Surface Maintenance For Warehouse Floors, Parking Lots, and more.

Karcher ride on floor scrubbers are designed to electronically scrub hard floors with wheel steering control. Color coded switch and controls designate quick and clear operations. Some models feature adjustable brush speeds and include an eco-efficiency mode. Water volume and additional specifications vary per model.