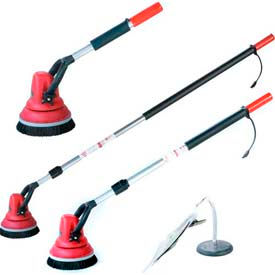 MotorScrubber™ Cleaning Systems
MotorScrubbers™ Are Battery-Powered Brushes Used For Cleaning Floors, Walls, Painted Surfaces, Vehicles And More.

MotorScrubbers™ are powered by a 12-Volt DC battery for convenient cord-free operation and safe usage around water. Battery provides up to 4 hours of use at a time. All scrubbers include battery, battery charger (8 hour Charge Time) and a backpack with carrying handle and charger pouch. MotorScrubbers™ weigh less than 3 lbs. and are made with a soft grip handle for lasting comfort during long periods of use. Scrub head swivels from 0° to 70°, and may be locked into position. Brushes may be easily interchanged. 30" Handle MotorScrubbers™ extend up to 5 feet. 50" Handle MotorScrubbers™ extend up to 8 feet. 15" Handle MotorScrubbers™ are non-extending handheld scrubbers for smaller-scale jobs. All scrubbers include medium duty brush, polishing pad, stripping pad and padholder disc. Additional brushes and other accessories sold separately. 1-Year Limited Warranty.