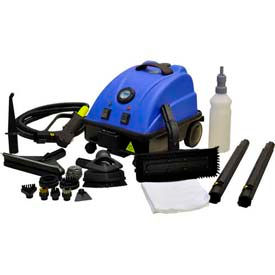 NaceCare™ Vapour Cleaning Jet Steam
Vapor Cleaning Jet Steam 1600C

Stainless steel welded boiler ensuring consistent steam pressure. Steam cleaner attacks grease, grime, hard water deposits, mould and more as it quickly breaks down virtually any type of soil, leaving the surface sanitized. The pump is connected to the water reservoir for a constant supply of water and unlimited working capacity. Operator safety is assured by the many safety features including 12V steam controls, pressure switch, thermostat, high limit thermal shut off and pressure relief. Boiler size 1.25 Quarts.