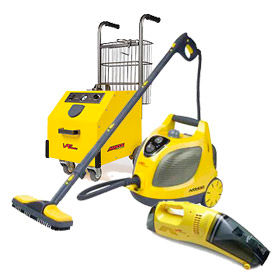 Vapamore Steam Cleaners
Vapamore Steam Cleaners Provide Deep Cleaning For Residential and Commercial Applications.
Vapamore Steam Cleaners are designed to provide maintenance care for heavy duty residential and light duty commercial applications. The MR-50 is a portable wet/dry vacuum and steam cleaner combined into one. This unit is designed to remove set in stains and spots from carpeting and upholstery. It includes a dust collection filter, upholstery brush, squeegee, steam outlet cleaning tool, and more. The MR-75 hand held portable steam cleaning system cleans everything from kitchen sinks to BBQ grills. It features a steam hose, tool adapter, jet nozzle, squeegee, measuring cup, and more. The MR-100 multi-use system removes dirt, stains, mold, mildew, pests, and other allergens. This unit features a rubber grip carrying handle, an accessory storage compartment, a retractable power cord, solid rubberized wheels, and other accessories to make cleaning both quick and easy. The MR-750 cleaning system is a lightweight unit making it easy to move, handle, and store. The 750 is made of commercial grade powder coat steel for strength and durability and features a 3 hour operating time on a single tank. The MR-1000 system is constructed of commercial grade steel with a powder coat finish for long lasting reliability. This unit has oversized upright handles, swivel casters, and large rear wheels to make operation and handling simple in any environment.
Steel construction
Yellow color finish
Power cord lengths are 10', 15', 18', and 25'
Wattages are 1000, 1300, 1500, 1600, and 1700
Amps are 10, 11, 13, and 14