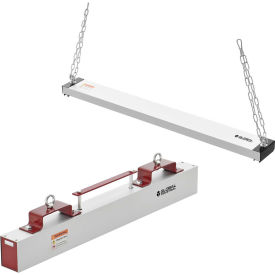 Hang Type Magnetic Sweeper
Super Powered, Permanent Magnets Are Used For Removal Of Sharp Iron Objects From Roads, Parking Areas, Loading Docks, Runways And Other Traffic Areas.

Hang-type magnetic sweepers reduce possibility of costly, dangerous flat tires and injuries caused by nails, scrap iron particles, welding remnants, wire, staples, tacks and metal shavings. Simply hang the magnetic sweeper from your forklift or vehicle bumper and "sweep" contaminated areas. Magnet face can be easily wiped clean with a glove or heavy shop towel to dispose of unwanted ferrous material. Recommended sweeping height is 2" to 4" off ground. Maximum recommended operating speed is 5 mph. Includes 2 eyebolts for suspension applications. Measures 5"D x 1-3/4"H. Permanent magnetism guaranteed.