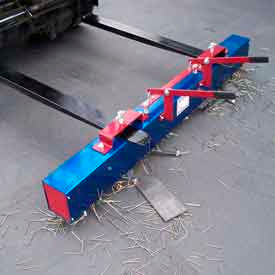 The Enforcer Heavy Duty Forklift Magnetic Sweepers
The Enforcer Heavy Duty Forklift Magnetic Sweepers Help Remove Massive Amounts Of Nails, Screws, Bolts, Tin And Other Debris From The Worksite.

Magnetic sweepers mount easily to almost any forklift with fork lift pockets with 9"W fork pockets. Used for parking lots, roads, landfills, recycling centers and warehouse floors. Made using an attractive blue anodized aluminum frame with heavy gauge powder coated steel. Sweeper easily clamps onto forklifts. Magnetic sweepers reduce tire repair costs by getting rid of tire damaging steel, nails, wire, screws and other metallic debris. Simple-to-use magnetic sweepers automatically pick up steel objects to provide an alternative solution to brush sweepers, vacuums and power sweepers. Not affected by rain, dust or temperature. Can be used over asphalt, concrete, grass and gravel. Uses strong grade-8 permanent magnets that never wear out and cost nothing to operate. Includes a quick release system to easily dispose of picked up materials. USA Made. 1 Year Limited Warranty.