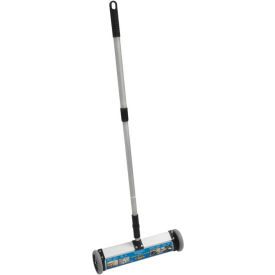 Mini Magnetic Sweepers
Mini Magnetic Sweepers Collect Magnetic Materials for Easy Clean up of Nails, Screws, Paper Clips and Other Ferrous Metal Items.

Sweepers are made with lightweight aluminum housing. Side mounted wheels allow easy operation over most terrain. Used for home, shop or office environments. Easily clear collected debris from sweeper with work gloves or a heavy shop towel. Sweeper with Release features a quick-release slide handle for easy disposal of ferrous materials. Telescoping handle allows adjustable lengths from 27-40"L. Used for mechanics, roofing contractors, garages, paring lots, job sites and more. Permanent magnetism guaranteed.