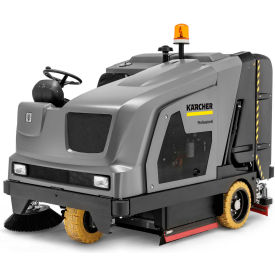 Karcher Sweeper Scrubbers
Karcher Sweeper Scrubbers Accommodate Surface Maintenance For Streets, Parking Lots, and more.

Karcher sweeper scrubbers provide dual-purpose industrial cleaning for hard floor surfaces in need of heavy duty scrubbing. Descending slope design allows for a wider vantage point when turning counterclockwise. Heavy duty, impact resistant steel frame provides lasting durability. Horsepower and additional specifications vary per model.