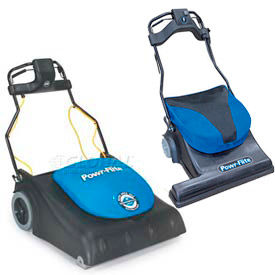 Powr-Flite® Wide Area Sweeper Vacuums
Powr-Flite® Wide Area Vacuums Are Great For Large Area Carpet Maintenance.

Wide area sweeper vacuums are perfect for auditoriums, stadiums, churches, schools and convention centers. Extra wide cleaning paths pick up large debris that would clog conventional vacuum cleaners. 3 diameter Quadra brush roll with sweep bristles pick up large objects with ease. 28" W Sweeper Vacuum features 7 " diameter fan and a large 7 gallon recovery bag. 5-position foot-operated height adjustment provides perfect cleaning height for most surfaces. Filter includes cloth outer bag and paper bag insert. 0.62 HP motor. Includes 60''L power cord and fold-down steel handle. 30" W Vacuum features 4-stage filtration that filters 98.6% of dust particles down to 0.3 microns. Dual 1HP vacuum motors provide 63 " of waterlift. Includes adjustable brush roll with 5 pile settings and 75'L power cord. Quiet operation at 70dB. All wide area sweepers are UL & CSA listed. 1 Year Limited Warranty.