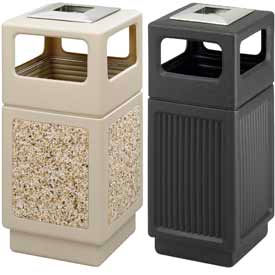 Canmeleon™ Ash And Trash Receptacles
Canmeleon™ Ash and Trash Receptacles Blend in with Parks, Office Buildings, and other Outdoor Environments.

Canmeleon™ Trash Receptacles are molded from high density polyethylene with built-in UV inhibitors for long lasting durability and resistance to outdoor elements. Telescoping base hides bag. Uses standard trash bags. Available with or without ash urn on top of lid. Storage capacities are 15, 30, 38, and 45 Gallons. Styles are Aggregate Panel and Recessed Panel. Color finishes are Black and Tan. Dimensions vary per model.